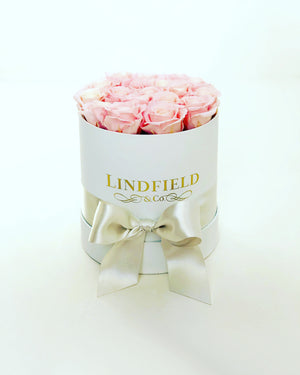 Mono Parva White No. 1: real preserved roses in a handcrafted hat box
Sale price Price £99.00 Regular price
Our Mono Parva White No. 1 bespoke rose box, comes complete with a Lindfield & Co ribboned, black matte signature box and with a choice of gold or silver logo foiling. Our Parva rose heads are smaller than our standard size rose heads in the Mono White No.1 Collection. The Parva rose heads are a daintier version in the same size box! This beautiful arrangement includes;
14-18 small preserved rose crowns,
each varying from 3.5cm - 4.5cm.
The product image shows our Purity white preserved roses.
All of our rose boxes come with a complimentary card for a personalised message, you can enter the details on your cart page.
Our real preserved roses last 1-2 years.
We do try to mirror the exact colour of roses on our photos. Please note that rendering, the true colours of a natural product, may vary from one screen to another.
Diameter: Ø135mm